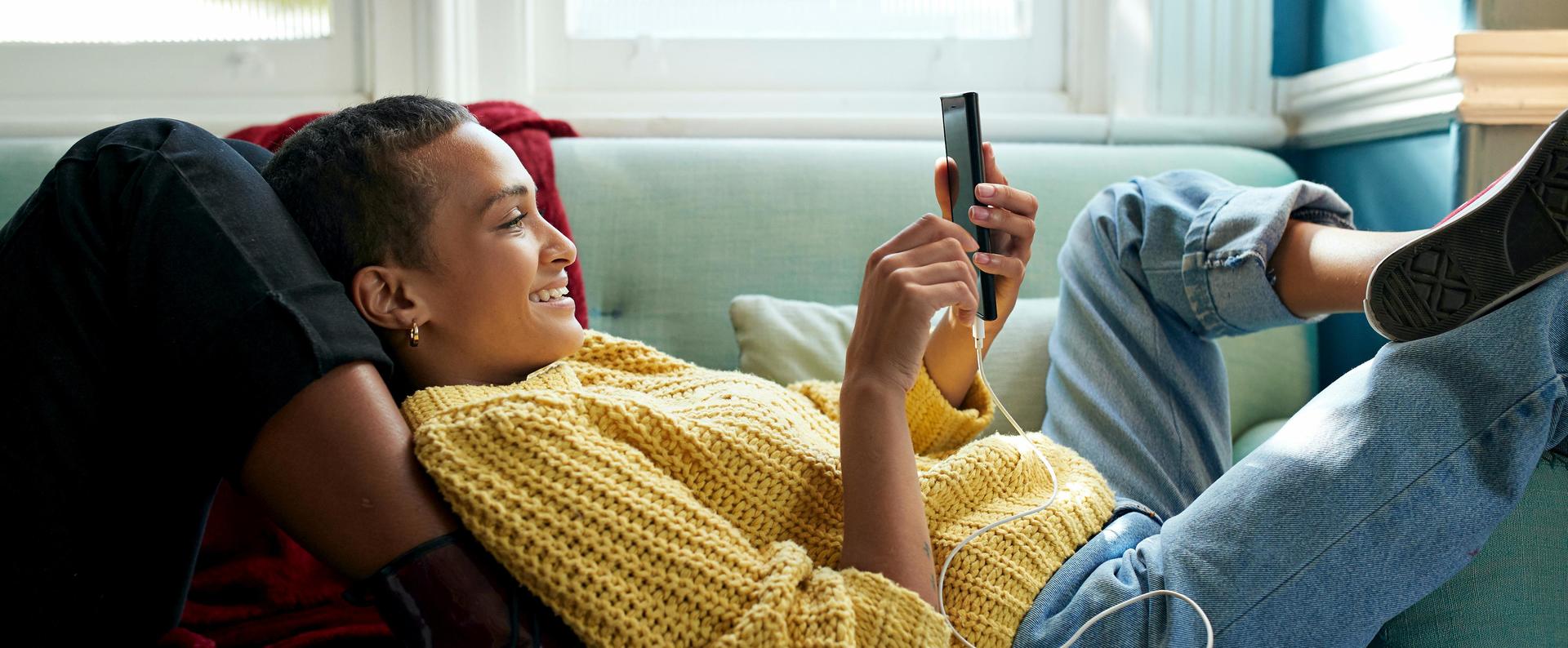 Promote your app and connect with mobile users who are likely to download your app.
Twitter allows us to reach a target audience very likely to download our app and helps us achieve fast and effective results. No doubt this is one of the best marketing platforms we have used to drive app installs and we will continue to do so in the future.
Increase app installs
Drive people to download your app with an app installs campaign. This is great if you want to showcase new features and get widespread visibility of your app. 
Your audience will easily transition from Twitter to the app store through the use of App Cards — a powerful ad format that displays an image or video, app ratings, and a click-through all in one place.
How it works
Design and build your App Card with eye-catching visuals, a tagline, and supporting copy. Your app rating will automatically import from your app store reviews. 
Your ad will be displayed in multiple locations on Twitter — including home timelines, profile and Tweet detail pages, search results, and apps across our Twitter Audience Platform — and will be labeled as "Promoted". Get the step-by-step guide to start building this campaign.
How to create an App Card
Visit ads.twitter.com

and navigate to the "Creatives" > "Cards" tab. If you do not see these tabs, you must

add a payment method

to your account first.  

Click "Create Card" and select "App Card" from the drop-down.
Choose between an "Image app card" or "Video app card".

Input your selected image or video. 

Select your geographical region, call-to-action, and follow the steps to drive to your app download link. 

Name your card and click "Create".

Once the card is created, it will show up in your "Cards library". Hover over your desired card, click on the "Tweet" icon, add Tweet copy, and Tweet it!
Follow the specifications here and policies here for best results.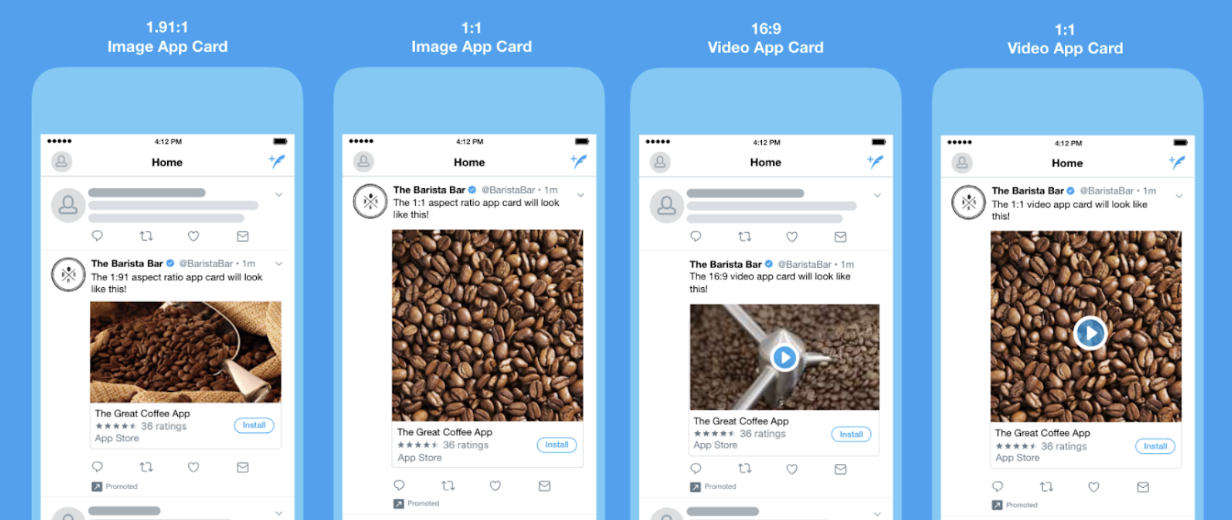 Best practices
App Cards can host both videos and images, so test and iterate with 3-5 creative options to learn what your audience is most drawn to. Refresh them every few weeks to make sure your Tweet stays relevant and timely. Test a few different copy and CTA variations too, and make sure your copy is short and communicates your app's unique value. 
Set up mobile conversion tracking to get a more in-depth analysis and focused look at your ROI. Don't forget to view more data in your Ads Manager dashboard and utilize our advanced targeting tools. Get more optimization tips for best results.
Learning Period
When you launch a new campaign, for the first 3-5 days, our systems will explore to try to find the best users for your ads. We call this initial exploration phase the Learning Period.
During the Learning Period, we strongly advise you to avoid making changes to your campaign to allow our systems to learn and calibrate as efficiently as possible. During this phase, you will likely see fluctuations in performance. After the Learning Period, your campaign's performance should stabilize. If you still are not seeing performance after the first 3-5 days, we suggest increasing your bids, widening your target audience, or refreshing your creative.

What you pay for
You only pay for clicks that lead to your install page on the App Store or Google Play Store. Impressions that don't result in those actions are free. 
You're also not charged any other non-objective benefits, even though running a campaign to boost one metric often helps other metrics as well.

As part of our preparation for Apple's iOS 14 IDFA changes (scheduled to begin in early 2021), we have integrated with SKAdNetwork (SKAN). Through SKAN, Apple will make only a limited number (100) of SK-campaign IDs (SKIDs) available for each advertised app. Twitter will reserve 30 of the 100 IDs to ensure we are able to continue developing and improving ad products. Please note these changes could affect your ability to manage your App Install campaigns and will take effect on the dates noted: 
On October 1, 2020, we will start applying SK-campaign IDs (SKID) to your live and scheduled ad groups. This means the new 70 SKID limit will begin on October 1st, and any campaigns with more than 70 ad groups will be paused. 
We will provide additional updates here, as well as through your Twitter account team.
Standout examples of app installs campaigns
Best practices for better success